At Cove Plastics we understand how important safety is to the military and government services. When manufacturing defense and firearm components quality has to come first. With over 20 years manufacturing parts and more than 50 years combined design experience you can trust that Cove will deliver the quality and safety you require in this type of component.
Our products are perfect for the defense industry. They are lightweight yet durable. Here at Cove, we have the capabilities to create small to large parts and using our urethane compounding materials these parts offer design flexibility without losing performance. Cove has the capabilities to provide durable products for all branches of the government and military in our state of the art facility.  No matter what the size of the order we will deliver.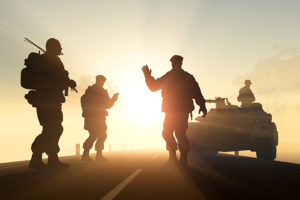 Some Military Parts
Rods
Sheets
Tubes
Gears
Chocks
Liners
Bushings
Urethane Pads
Our expert team will work with you from the start of design to the end of production to create a product to fit your needs. At Cove Plastics, we use the latest technology in SolidWorks to upload your design or help you create a custom part. Our state of the art equipment ensures the highest quality parts every time. Our Quality Control Department checks each individual part before being packed and shipped to make certain they are of the highest quality.
At Cove, we can add any color and many types of filler or bond to metal to meet your specific need. These components also offer resistance to heat, solvents, and chemicals to meet and exceed the military specifications.
Contact us today for more information or to receive a quote.