Injection Molding
Injection molding can be used in just about every market. Here at Cove Plastics, we create custom parts for Medical, Defense and Firearms, Packaging, Transportation and many other industries. These parts can be produced in many different colors, shapes, and sizes.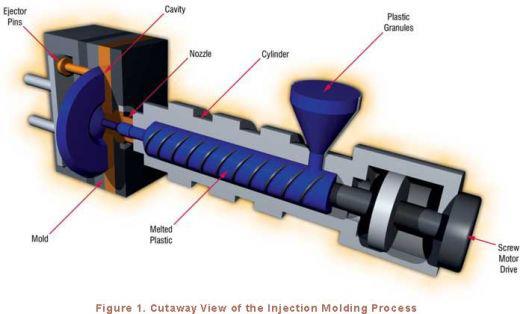 Cove Plastics has been producing injection molded parts for over 20 years and our engineers have over 50 years combined experience, so you can be confident in our capabilities to provide quality products and on time deliveries. Injection molding has some great benefits. This process can be very cost effective and produces little waste.
Most of the process is automated which can cut the cost of labor. Materials can be combined to create different hardness and added qualities to your products. The parts can be very complex with intricate detail or they can be simple. Our facility is capable of producing small to large parts in any quantity. Some injection molded parts
Computer components
Medical and Dental Supplies
Buttons
Bottle Caps
Packaging
Combs
Packaging
Car interior components
Shipping racks
Textures can be added during the mold process to improve grip and reduce deterioration of the produced parts. Some textures that can be added are leather, wood grain, logo or artwork designs, and natural, matte, and gloss finishes. These textures give your products a custom finished look. Cove Plastics staff is committed to providing your company with exceptional service and products that fit your needs.
Contact us today for more information or to request a quote.